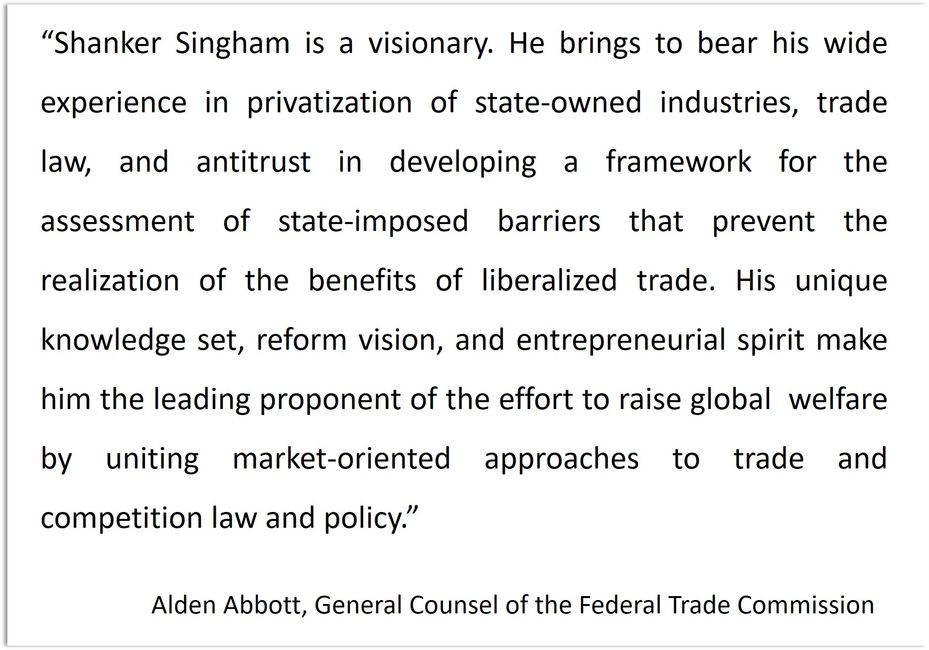 Quotes about Shanker
In December, 2012, the Australian Newspaper described Shanker as a "trade crusader sought to recast trade barriers through a competition lens, and thus promote policy that lifts the world's poor."
Kerry Healey, President of Babson College, and former Lieutenant-Governor of Massachussetts under Governor Mitt Romney and a senior advisor to both his Presidential campaigns has said "I believe Shanker is the most brilliant conservative economist of our generation."
Rob Portman, former USTR said of Shanker's 2007 academic text book, "A General Theory of Trade and Competition is an important contribution to the understanding of global trade. By going back to first principles, Shanker Singham takes us back to the original purposes of free trade and competitive markets, helping to explain the benefits of free trade. It is an important book for trade specialists and policymakers."
In 2012, at a Henry Jackson Society event, at which Shanker spoke, Geoffrey Clifton-Brown, Conservative MP and former shadow trade spokesman said "I can think of nobody more knowledgeable on trade issues than Shanker."
In February, 2017, Michael Gove on Radio 4 said "I've been impressed by work that has been done by Shanker Singham of the Legatum Institute [a thinktank] who is probably at the moment in Britain the leading expert on trade deals, and he's pointed out that it would be possible for Britain to conclude a deal not just with America but with other countries like New Zealand, whose prime minster was here recently … Shanker Singham has concluded that such a deal could increase Britain's GDP and jobs and growth significantly. There are some experts whom one does not automatically follow, but I'm inclined to believe that Shanker Singham and the work the Legatum Institute has done points the way to a successful trade relationship between Britain and other countries."
Former United States under-secretary of state for international trade, Francisco Sanchez said, "Shanker Singham is one of the world's top trade experts. His thoughtful analysis of trade distortions has served governments in developing polices that support free trade. He has committed his entire career to promoting and supporting economic growth through trade. Though of us who have sought his advice are fortunate to have had his wise counsel."
Former Federal Trade Commission Director, Alden Abbott said, "Shanker Singham is a visionary. He brings to bear his wide experience in privatization of state-owned industries, trade law, and antitrust in developing a framework for the assessment of state-imposed barriers that prevent the realization of the benefits of liberalized trade. His unique knowledge set, reform vision, and entrepreneurial spirit make him the leading proponent of the effort to raise global welfare by uniting market-oriented approaches to trade and competition law and policy."
Anti-Competitive Market Distortion Developments
His academic text book published in 2007 identified Anti-Competitive Market Distortions (ACMDs) as a threat to the global economic system. He further developed the principles of Anti-Competitive Market Distortions in his work with Alden Abbott, Deputy Director in the Office of International Affairs, as well as his various reports in association with the Council on Foreign Relations.
In a report published by The Australian, Singham was described as a "trade crusader" who has sought to recast trade barriers through a competition lens, and thus promote policy that lifts the world's poor [cite]. He noted the purpose of trade liberalization however, is to enhance consumer welfare and ultimately make the global supply chain more efficient - hence lifting people from poverty.
The argument that free trade benefits the rich and hurts the rest, that it's a zero sum game, has begun to prevail all over the world. Singham has been seeking to develop a metric to express the welfare losses resulting in Anti-Competitive Market Distortions.
The Rushford Report confirms that the "most innovative representatives of American business — think of IBM, Microsoft, GE, Google, FedEx, UPS, US health care and medical device providers, telecommunications innovators, the Silicon Valley, Boston's Route 128, and North Carolina's Research Triangle — are being ripped off, big time. So are their counterparts in Europe and important trading countries including Australia, Singapore, and New Zealand." The article goes on to quote Singham as asserting that "trillions of dollars are being sucked out of the global economy by such market-distorting, anti-competitive regulatory practices. This is why negotiating market-oriented competition reforms are so important."
Enterprise Cities
He is the founder of the concept of Enterprise Cities.
Enterprise Cities are established by governments willing to give authority to a new entity comprised of a public private partnership of government officials, experts, and developers who together create a new regulatory system that delivers a pro-competitive business environment based on open trade, competitive markets and property rights protection. Enterprise cities are beneficial for countries as they include a revenue share with the Host Government that manages this special zone, as well as employment benefits for the local population and wealth generating effects brought about by the Enterprise City. The governance and economic framework is powered by the Competitiveness and Enterprise Cities Project in these areas to deliver an overall environment which seeks to maximize the creation of prosperity.
A successful implementation of an Enterprise City will demonstrate principles behind how economies and societies can best be organized, showing how wealth is created for the society as a whole when government distortions and other road blocks to economic activity are eliminated.
Employment History
March, 2018- Director of the International Trade and Competititon Unit at the Institute of Economic Affairs.
March, 2018-Head of Trade at the Centre for Economic Business and Research
May, 2018-Senior Advisor to Huntsworth/Grayling
January, 2016 – Director of Economic Policy and Prosperity Studies, Chairman of Legatum Institute Special Trade Commission; Chairman and CEO, Competere Group
September, 2013 – January, 2015 – Director of the Competitiveness and Enterprise Cities project at Babson Global, the venture arm of Babson College, Boston, USA
June 2005 – August 2013—Head of Global Market Access Practice, Squire Sanders, Washington DC, USA (managed a group of twelve lawyers all over the world)
February 2001 – June 2005 – Partner and Head of Trade and Competition Practice, Steel Hector and Davis LLP, Miami, USA (managed a group of ten lawyers all over Latin America and the US)
March 1995 –Feb 2001 – Of Counsel, Steel Hector and Davis LLP
September 1992 – March 1995 McKenna & Co (now CMS Cameron McKenna)
In Addition:
March 2009 – December 2015 – Cleared Advisor to United States Trade Representative and Department of Commerce (ITAC16 – SPS, TBT and Regulatory issues); Worked on TPP, TTIP and US bilateral agreements
June 2003 – present: Non-Government Advisor to the International Competition Network
Member of Council on Foreign Relations, and Cosmos Club.